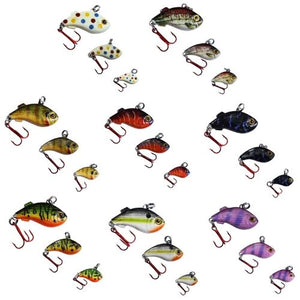 K-RIP MASTER PACK (ALL 24 K-RIPS)
K-RIP MASTER P|ACK (ALL 24 K-RIPS)
Snag the quick grab master pack with 1 of each size and color of our K-Rips (24 total lures.) These little mini vibe lures are awesome for panfish. You can pitch and jig, or fish under a float. K-Rips have a slower fall rate than our Tungsten Core T-Rips, for a more natural presentation. 
You will receive 24 K-Rips. 8 of the 1/2" size,  8 of the 3/4" size and 8 of the 1" size. 8 Colors total. 24 lures. 
1/2" - #16 Treble Hook (Approx 1/64th oz)
3/4" - #14 Treble Hook (Approx 1/32nd oz)
1" - #12 Treble Hook (Approx 1/16th oz)
Kenders K-Rip Features:
Equipped with Rattle Beads
Fish with live bait or plastics
Can be fished aggressive or finessed
Realistic eyes
Includes Treble hook and single inline hook options (2 hooks included)
Target schools of Crappies, big Bull Bluegills, or pound the bottom for Jumbo Perch. K-Rips are super versatile and are also a great search bait.