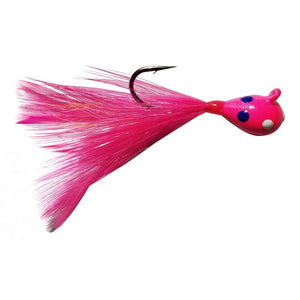 TUNGSTEN WONDER FEATHER JIG - GLOW PINK WONDERBREAD/PINK FEATHER
Kenders Tungsten Wonder Feathers offer a premium quality tied minnow profile equipped to a dense tungsten spotted profile head. Flashy and bright, these jigs attractive and entice Slab Crappies and Bull Gills hanging out on weed edges or up in cover.
Have excellent cast control while fishing a small profile. Vertical jig right over the side of the boat, the dense tungsten allows for great sensitivity. 
Fish them under a float, no split shot required! 
Since the feather ties are designed to mimic a minnow profile, Wonder Feathers can be fished right out of the package. Thread on your favorite micro plastics for more attraction. Wonder Feathers can be fished with live bait such as crappie minnows, night crawlers and waxies. 
Available in 2 Sizes:
5mm - #10 Hook (Approx 1/16th oz)
6mm - #8 Hook (Approx 1/8th oz)