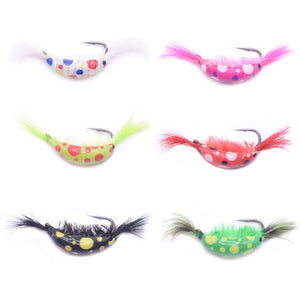 6 PACK - TUNGSTEN WONDERBREAD SHRIMP GLOW
Quick 6-Pack grab selection of our Tungsten Wonderbread Shrimp.

Kenders Tungsten Wonderbread Shrimp profiles are a perfect presentation for Bluegill and Crappie. Finish out the presentation with a spike, waxie or your favorite plastic. Can also be fished as is!
You will receive all 6 color variations (6 Jigs).
Features:
- Dense Tungsten Body (1/32 oz)
- Underlying Glow Body
- #8 Sticky Sharp Black Nickel Hooks
- Super Quality Shrimp Tie
- Rocking, jigging motion presentation.