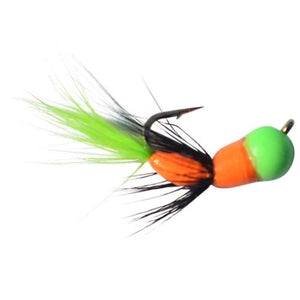 FIRETIGER PATTERN TUNGSTEN AKUA JIG FLARE
Inspired by classic colors of the firetiger pattern, this jig packs a bright punch with its oranges and greens. Skirted out with a black feather flare, and a chartreuse green tail. 
Our Akua Jigs are tied with attention to detail, and only quality materials. Durability is our mission. Drop one down on a school of Crappies or entice a stubborn Gill. 
Fishes great tipped with spikes or waxworms or your favorite plastics, or as is!
Available in 2 sizes: 
5.5mm - #8 Hook
3.8mm - #12 Hook