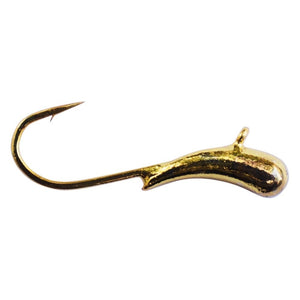 METALLIC GOLD TUNGSTEN KANOE JIG
New for 2019-20 Winter Ice Season!
Kenders Kanoe jig is a unique profile that is designed to sit horizontal in the water, and have a darting action when jigged. Load up with waxies or spikes, or use your favorite go-to plastic. Can also be fished under a float with a Crappie minnow or Fathead. 
Avaialble in 3 sizes:
3.3mm - #14 Hook
3.6mm - #12 Hook
4mm - #10 Hook (Great for larger plastics)